by Nick Remsen
To call the Museum of Ice Cream a phenomenon is… well, an understatement. It's a pop-up, cheekily institutional "experience" envisioned by founder and creative director Maryellis Bunn and co-founder Manish Vora—and it is now a world famous feat, thanks to its infinitely Instagram-able angles and its celebrity endorsements. But beyond the splash, the concept is oddly genius—and it speaks to a shift in how we, the public, expect to be entertained.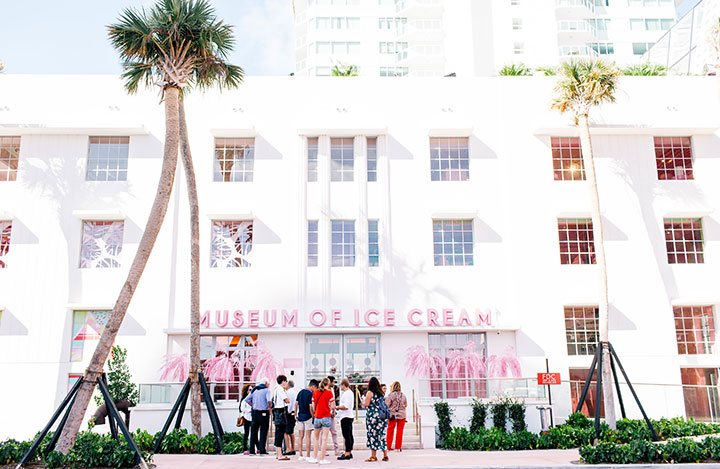 Previewing the Museum of Ice Cream's newest location, which officially opened in Miami Beach at the tail-end of December's Art Basel Week in the Faena District, Bunn elaborates on the origins of the only 16-month old brand. "The culmination sort of has three prongs," says the Laguna Beach, California-born entrepreneur, who had the idea for MOIC shortly after she graduated from Parsons in Manhattan. "One, I was looking to create an experience that could be enjoyed by both adults and children—kind of like an enclave from the outside world. How do we transform a space that might alter human behavior? Then, I thought, ice cream is a universal medium. So many people love it, and so many people have stories about it. And lastly, there's an aspect of nostalgia, as well."
There have been iterations in Los Angeles and New York City and San Francisco is currently hosting its own MOIC, and the museum in Miami is rather enclave-like in its effect. It's part theme park, part movie set, with walls painted warm pink (Pantone 1905c to be exact), faux palm trees of the same hue, popsicle sculptures, ice cream cone props and a phalanx of buoyant, bubbly attendants to see you through its chambers. One even tells you your sorbet fortune. I picked the "Ice Cream Princess" card—easy streets ahead. Lucky me.
There's also the Museum of Ice Cream's most famous attribute, which is installed in all of its locations: the Sprinkle Pool. The basin is filled with nearly 100,000,000 antimicrobial faux sprinkles which feel strangely therapeutic against your skin. It is, unsurprisingly, a backdrop for many a selfie.
"What makes the Miami property unique," says Vora, "is that we really wanted to give a sense of the city that many people might not see. Of course, it's tropical, but it's multi-cultural as well—we play Latin dance music on the second floor. Super vibrancy was key. We also have an exclusive ice cream flavor here—Key Lime."