By Carly Klein
Award-winning American artist Michael Aram, famous for his meticulously crafted home accessories, recently opened an eponymous store at Bal Harbour Shops. Below, he speaks to us about his inspirations, what's makes a consummate host and which are the most coveted pieces at his new flagship on Level 3 of The Shops.
Tell us about the Michael Aram brand and how you find your design inspiration?
My work is an extension of myself—my fascination with making things by hand and my exploration of nature, and the natural beauty of the world around me. I started my career as a fine artist and have since enjoyed blurring the lines between what is fine, functional, and decorative art. Our collectors often call my work "jewelry for the home." We like to think we are making memories each day with our pieces, which we hope, are the heirlooms of tomorrow.
Once the design is made, what gives me the most pleasure is seeing that work used and enjoyed in our collector's homes or given with love as gifts.
What is an absolute must-have for our Bal Harbour shoppers this holiday season?
This year, more than any other, we will all choose carefully what we purchase for ourselves or give as gifts. Lately, our homes are more of a sanctuary than ever before, and brightening those spaces is even more important.
As a company, it's incumbent to go above and beyond to make everything feel special and joyful. It's these details, of essential beauty and quality, which can enliven a holiday table or add warmth to anyone's home decor.
Having just personally moved to South Florida, I find myself setting more, and more, tables with our Palm Candle Holders—a totem I'm quickly learning is central to the area.
Can you take us through the design process of one of your favorite pieces?
Sometimes I start with an idea and start drawing. Other times I will just go right to sculpting some clay. It really depends on the set and setting, at the time. There are other periods where I work in the sample room in our India studio, with the master craftsmen there. I love watching how a piece takes shape in that environment.
I have been making jewelry for many years, and often note how different my process is with jewelry. The smaller scale, the preciousness of the materials—it's a very separate part of my mind and soul. It is challenging for me, but in a very good way.
A personal favorite piece is our Heart Frame. When my twins were born, I forged two heart-shaped bowls and joined them together, as part of our birth announcement. When you make a heart by hand in this way, it guarantees that no two will ever be the same. I like the symbolism. Just like our loves, each forged heart is special and precious in its own way.
Can you share one of your favorite Bal Harbour Shops memories with us?
My kids love coming here! Recently I visited with my 9-year-old twins. My son quickly figured out how to open the safe in our store office, much to my chagrin! I also loved my daughter's reaction, who assured me that when she got older, Bal Harbour Shops would be a spot for her girlfriends to shop and have lunch—which obviously warmed my heart.
How would you define the perfect host and what home décor pieces should they be on the lookout for?
The perfect host always walks a delicate balance. They are someone who is big-hearted and who naturally makes their guests feel comfortable. However, one's guests should always feel looked after but never fussed over.
It helps when you incorporate pieces that reflect the big-heart and personalities of the host. I love big serving pieces: copious platters always set the tone for generous entertaining, which is the true mark of a graceful host. I enjoy repurposing pieces, like using one of our extra-large centerpiece bowls to fill with ice, and assorted bottles of wine, champagne, or sparkling water. Touches like that are festive, but also handy for serving guests. It's this sense of functional ease that helps to suggest that one's guests should feel comfortable themselves.
What do you believe is the most classic Michael Aram piece and/or collection throughout the brand's 30-year history?
Personally, it would be a close call between either our Black Orchid or Butterfly Gingko Collection.
The inspiration for both collections is dear to me. Both signify a distinct time and place in my workshop, and subsequently, our business. They are the mainstays of my work.
The truth, however, is that now living here in South Florida, I'm eager to be inspired in so many new and original ways. I can already see my work beginning to reflect the incredible surroundings here, and I'm excited to tease that out and see where the work takes me.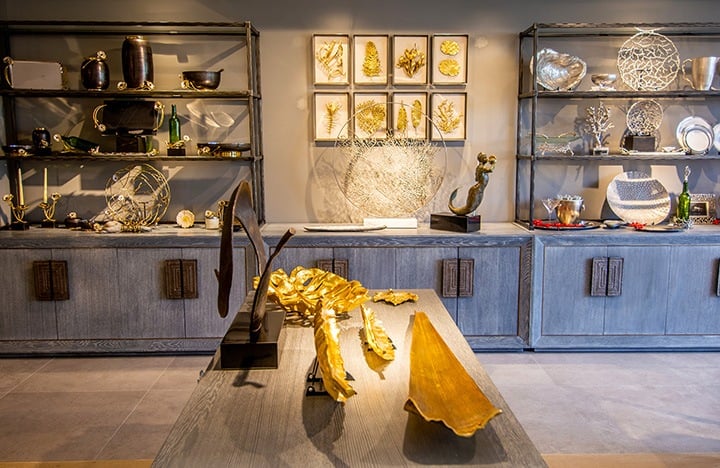 Click Here to view the feature in our Fall Issue of Bal Harbour Magazine.