By Tali Minor
When two statement-makers get together, you know you're in for a treat. And from the very first appearance on my screen, via Zoom, Chloe King and Tamu McPherson did not disappoint. Each donning a bright, flowing frock (more on that soon), these two women—who (used to) often cross paths while on their global tours of fashion weeks, and seem to stay in constant contact via their IG feeds—generously shared their time to discuss who's really, really pulling on their heartstrings in fashion.
Tamu McPherson: You're not wearing that dress. I'm getting off the call immediately (she says in a fit of giggles)
Chloe King: I wore it for you! I wore it for you…
TM: I have to go change immediately.
CK: I needed some color. I needed something classic for Tamu!
TM: Well, this is a beautiful dress I have on, too. It's Stine Goya, but listen, if I knew that we were doing Celine…
CK: (Adjusts her dress with a little exaggeration) So, let's get started. Let's start with which designers are resonating with us right now.
TM: Well, we have a mutual designer that we love very much… Mr. Christopher John Rogers. How they got that brand up and running is just a reminder every day that you can make anything happen with determination and hard work. It's a joy to wear that line because you know how honest they are in their approach to design.
Now that we've been in this pandemic—and had time to really evaluate and reflect on who we wear and what we buy—I'm so happy that I buy pieces from them, the pieces I own are so much more special. And I want to continue to support them.
CK: I completely agree. And aside from feeling emotionally invested, I have so much respect that they've carved out their own path. They have created a really unique point of view that's gone against the grain of all these new brands trying to be Celineish, trying to be minimalist. It really is so different—and so joyful! I mean, you know me, I like to go against the grain. Whenever I see their clothes, it just makes me think to myself like, why would you ever want to wear a boring minimal anything when you can be wearing this? You feel so good!
TM: I agree. I think they enjoy every minute of life and their clothes reflect that idea. The bigger, the better. I'm taking up this space, and that's the great fun about it.
CK: That's something Christopher has said, that he likes his women to take up space. And I love that. The older I get, the less self conscious I feel about doing that. Like, being a person wearing something a little different. I don't care.
TM: The line is great for now because we're being forced to live in a minimal reflection of our normal lives, so if you slip into a Christopher John Rogers at home, it just enables you to really take up that space in the moment. I think that these are dream pieces. I'm glad that they're being used in editorial, specifically now, because people need to dream and to be inspired at that level. It's like fashion therapy.
CK: I've never thought about it like that, the physical confines of our space. It's defiant in the way that we're all in this pressure cooker right now at home, so it's nice to have this explosive fashion moment right now. Who else are you loving right now?
TM: Prada and Gucci are also really looking gorgeous. I'm obsessed with Hanifa, because I need to get that red, blue and gold top that Beyonce was wearing. That is my mission and goal. I'm on the waitlist for that. I'm a longtime fan of Proenza Schouler, and I loved their outerwear in this collection and that they styled it with those knee-high boots—which is such a good styling trick for lengthening and to make something look elevated.
TM: There are so many designers that are really offering something interesting for the fall. I'm not ready for fall yet, but I'm definitely taking into consideration what the brands are about—the efforts they're making in terms of social justice, the environment. These things are so important now. Especially if you're investing in clothes for a season that you may not actually even wear outside. So, I'm not going to stop shopping, but I'm definitely more mindful of the purchases. This is a moment to truly invest in pieces that have a special meaning in your fashion universe.
Are you going into the office, or smart-working?
CK: I'm going in once a week right now because it's important to see what's there in the store. We're open for client appointments, but for the most part I'm working from home.
TM: Right and working from home, you're on your Zoom calls, so I feel like it's important to have pieces that are pretty. Things that lift your spirits—you need to get dressed up a little.
CK: I agree. I think that was something I saw in the Resort collections. I help Linda [Fargo] put together the trend reports and look at the macro trends. The through line we saw were these bright, blocked colors being used together and we started referring to that as Happy Colors. A bright shoe will make you feel better than your Uggs. Even brands you don't expect, like Bottega, you're seeing these jolts of color. It's optimistic.
TM: Totally! I was so surprised at their store the other day. I was blown over by the color.
CK: To get personal for a minute, if I'm going to invest my money in fashion, it should be with people who are dedicated to change in the industry. I want to support the designers who care about who shops from them, and are interested in representing people who are otherwise not represented. I've slowed down my own consumption, but I want to make sure that I'm lifting up with my voice—and my income—the people who deserve that. And in order to consume less, I'm also trying to incorporate more vintage pieces into my wardrobe. Not everything has to be new.
TM: One hundred percent. On All the Pretty Birds, we started a series last season called Repeat It. As a digital creator who works in the space of influencing, I started to feel extremely responsible for the sheer volume of clothes I was promoting—for work. I can imagine being someone who isn't in the industry, someone who doesn't get the gifts, and discounts and whose job isn't to invest in fashion, and I started to feel like those people must feel like they need to keep up. It's not sustainable for people and it's not sustainable to the environment. It's not healthy to think that we can—and should—consume so much.
So, it became our goal with the Repeat It series to photograph the people that inspire us in pieces they wear all of the time. So that our followers can have a healthy relationship with shopping for fashion. If you're like us, who have a dress from seasons ago that they continue to wear all of the time, we want to promote that.
CK: You're making that practice more normalized. That's a funny challenge, that there is this expectation of newness. It's like every party we go to has to be in something new. It's an icky expectation. Why is it a problem that I want to wear this piece I love over and over again?
TM: I buy something because I love it and because I want to wear it! I expect the emotion I have when I see a dress on the runway to last. That oh my god moment, that should last years later!
We have to take some responsibility as people who communicate to the people that follow us. It's good to repeat your clothes and it's good to consider what consuming too much means for the environment. Wear the heck out of your clothes! Wear them all of the time!
Ok, so who else are you loving these days?
CK: I think Jonathan Anderson at Loewe is a real artist.
TM: I think his presentation was beautiful. That crocheted coat is going to be amazing.
CK: The accessories are so well made you'll have them forever.
TM: Exactly. And I love how Ramya Giangola styles his clothes. She makes them look effortless. He has this green long dress, that's so on-mood because it's flowy and liberating. That silhouette, the body and the fit are liberating.
CK: What I love about Loewe is that it's not inherently sexy. He designs for an intellectual woman. It's rich with references. It makes me feel confident without trying too hard. That to me is so much cooler than super skinny, super tight, one look, one body type. There's always something you didn't even know you wanted, and then you do.
TM: He's not selling sex, but he's giving you characters you take the time to fall in love with. You want to take the time to get to know that woman wearing Loewe.
CK: Thinking about accessories, and something I really love for fall is a loafer. Old school, chunky, penny loafer. You always look a bit polished but it's still practical. I'm really glad that's coming back. I also really love that Prada brought back the puffer blazer, and it's perfect now. That blazer is what you want to be at home wearing; it's practical, but also eccentric.
TM: I would really love one of those puffy blazers. That collection was also amazing because it was a transition with Raf getting ready to start. That re-edition of the nylons and the classics that she showed, it's a jump off point for Raf to come in. Miuccia is such a storyteller, you know, and we've seen Raf in similar spaces. This could be kind of explosive. It's exciting.
CK: I think the similarity then between some of the people we've talked about is the way that they see women is very intelligent and multifaceted, and that goes against convention. For me, that's super empowering and that's what I'm drawn to.
TM: We need to talk about some female designers, too. I think people will fall in love with Cecilie Bahnsen again. I always feel her line is beautiful. And someone else I respect and love the line is Gabriella Hearst.
CK: The first time I met her, she walked me through her pieces, and I remember stopping on one of her first linen shirt dresses. She explained to me that the dress was made from linen dipped in aloe, so that people would feel a cooling sensation when they wore it in the summer.
TM: that's what you get. That thoughtfulness.
CK: Oh Rosie Assouline is my favorite. She's an original and wearing her clothing is a joy. Tamu that outfit you wore with her striped pants and a Jamaican t-shirt is forever one of my favorites.
TM: I love Stella, Ganni… I think Mara Hoffmann is a go-to who designs to make women happy.
CK: Simone Rocha! Top-five. It's all so gorgeous.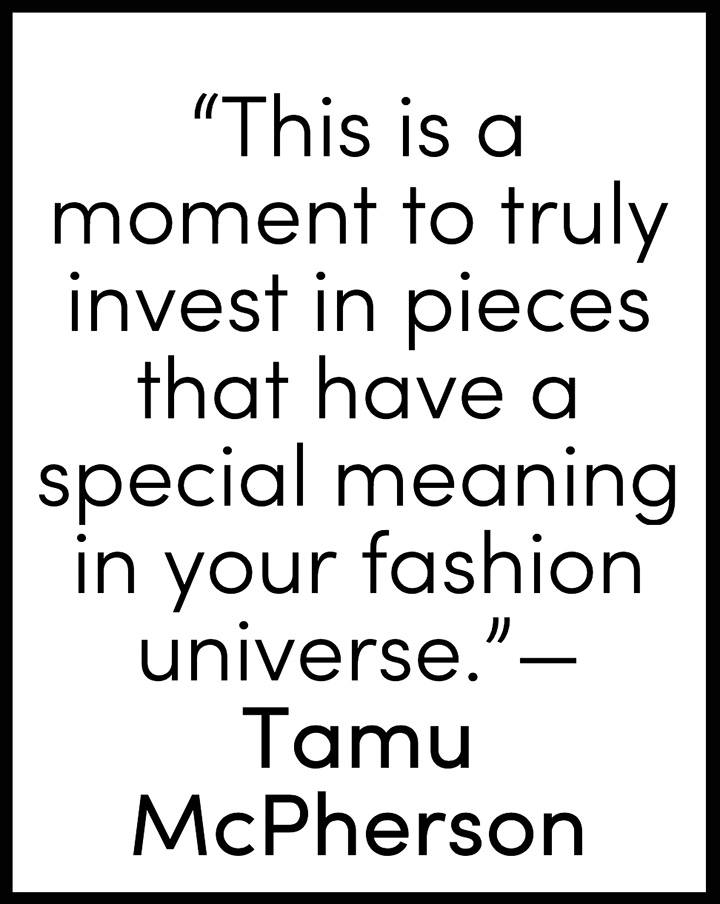 Click here to see the full article in Bal Harbour Magazine.