Red Market Salon's phone started buzzing with texts and calls for appointments the moment quarantine restrictions began to loosen. The high-end beauty destination in Bal Harbour Shops anticipated the pent-up desire for grooming services—especially to hide those pesky, stubborn grays around the hairline—and used its time wisely during the shutdown to have protocol in place and ensure the highest level of safety.
"Many of our clients said they came to see us before they went to the doctor," said general manager Victoria Taylor, who researched every little detail for an optimum guest experience that reimagines the salon's well-touted, red-carpet service for a new reality. "We've received overwhelming feedback, and it's been a tremendous opportunity for our industry in general to provide even better service than before."
Prior to their appointment, clients can watch a short tutorial via Instagram (@RedMarketMiami) about safety precautions. Taylor used her connections with a major beauty brand to learn the most innovative, medical-level measures available to her trade. While remaining luxurious and inspirationally charged, the reconfigured salon's layout and cleanliness is reminiscent of a doctor's or dentist's office. It was important to Taylor that clients don't just hear about effective procedures but witness them firsthand.
"We disinfect salon chairs and the shampoo bowl area in front of them," said Taylor, who adds a few drops of essential oils to either CaviCide or Barbicide disinfectants for aromatherapy. "Each stylist has a medical tray, where tools are also disinfected in front of the client."
Both clients and staff members have their temperature taken, and masks are required of everyone. If clients don't have a mask, the salon provides two options: a paper surgical mask or custom branded cloth mask. The staff wears face shields for some services, such as eyebrow grooming and makeup application (clients can request they wear one for any service, however), and Plexiglas partitions separate nail technicians.
More assistants were hired to disinfect, while there's no longer a need for a receptionist due to contact-less checkout. Beverages are served in disposable containers, and cutting capes are sanitized and sealed in plastic. Guests wait in the retail area and tend not to run late like their pre-pandemic selves.
"Everyone is being so conscientious about arriving on time. They know we can only have a certain amount of people in the salon at once, so they may have to reschedule if they miss their window," she said.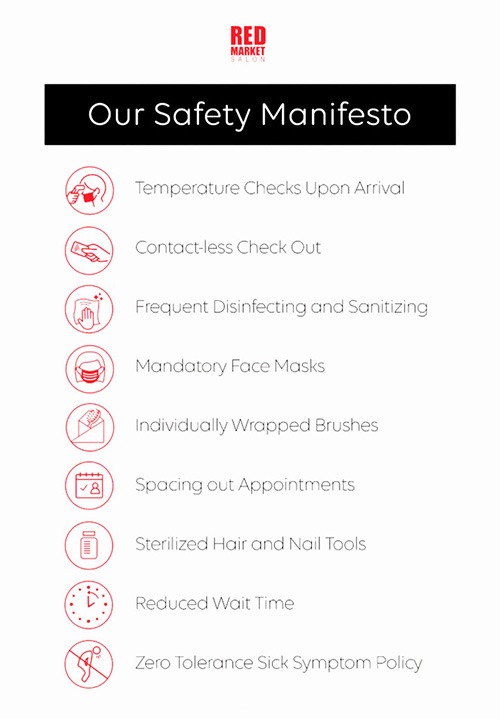 Operational hours have been extended to accommodate as many clients as possible with new social distancing practices. Taylor has seen an uptick in new referrals as New Yorkers relocate and more snowbirds decide to hunker down here for summer. Popular services favor those with longer-lasting results like eyelash tinting with a more permanent dye formula and keratin hair softeners that mitigate frizz from humidity. But first, about those grays.
"People have been waiting forever to dye their hair, and they only want the safest place to reenter their beauty regimen," she said.
Written by Rebecca Kleinman