By Mackenzie Wagoner
Transparency just might be the most luxurious word of 2018. In this hour of alternative facts, convenient truths, and false headlines, what could be more covetable than straightforward clarity?
The Spring runways certainly made more than one thing clear—see-through accessories and garments gleamed on models' heads, toes, torsos and limbs in New York, Milan and Paris. Nowhere more so than under the guidance of Karl Lagerfeld at both Chanel and Fendi (executed by Silvia Venturini Fendi), recalling the optimism of Paco Rabanne and Andre Courreges's late '60s foray into mod plastics, new materials for the romantic youth uprisings happening from San Francisco to Paris. Lagerfeld bristled at any reference to past political movements, but the rainbow created by the facsimile waterfall in the Grand Palais set a literal arch of hope above the supermodel cast of Kaia Gerber, Binx Walton and Kendall Jenner gliding by in their crystalline bucket hats, demurely capped thigh-high boots, glassy tote bags and gloves, and abbreviated capes.
For Fendi's nod to the machine-age mania of Italian Futurism, transparent layers of day dresses, pencil skirts and button downs were given a pale candy stripe finish. The plastic patina took a romantic turn with Oscar de la Renta's pointed toe Cinderella slippers—no fairy godmother or prince required. And then there were the bags. Who wouldn't be thrilled to see people in power carrying a what-you-see-is-what-you-get plastic briefcase from Sean Oliver's debut collection for Helmut Lang? Or want to sweep through the airport hassle-free thanks to Maison Martin Margiela's TSA-friendly PVC handbag adorned with flight stickers?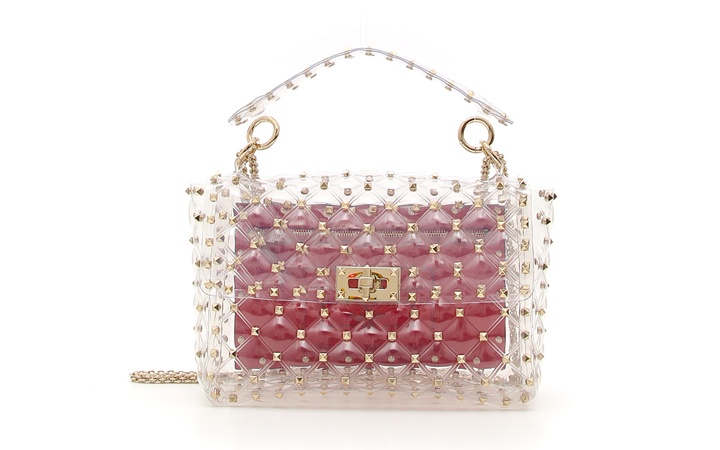 And Valentino's quilted shoulder bag served as a simple reminder that whether studded, piped, sequined or pleated, this rain-resistant gear is for women who can weather the storm—and have nothing to hide.