By Nick Remsen
Van Cleef & Arpels—the Place Vendome, Paris-based luxury jewelry brand—is known amongst style-savvy shoppers for its timeless Alhambra charm. You've seen it, no doubt: From modish Miamians sporting sole malachite or mother-of-pearl pendant on gold chain, to LeBron James or the tennis star Grigor Dimitrov, who each wear bracelets featuring five of the motifs. And while the Alhambra is directly inspired by a four-leaf clover, there's no doubt a certain movement and musicality to its arching-and-dipping shape: If you outline it, the result is almost like tracing the sweeps of an orchestra conductor's baton. Or, likewise, the perfect curvature of a ballerina's cambré.
As it happens, Van Cleef & Arpels has a storied—and perhaps unexpected—history with performance and dance.
In the 1950s, the choreographer George Balanchine would meet the brand's namesake Claude Arpels. The connection would inspire Balanchine to create what is deemed to be the first great abstract classical ballet: Jewels (some say the idea was seeded by Van Cleef & Arpels' ballerina brooches, which were made in the '40s). The jewelry-maker, in essence, helped catalyze what is now a canonical dance piece, scored with the music of Fauré, Stravinsky, and Tchaikovsky.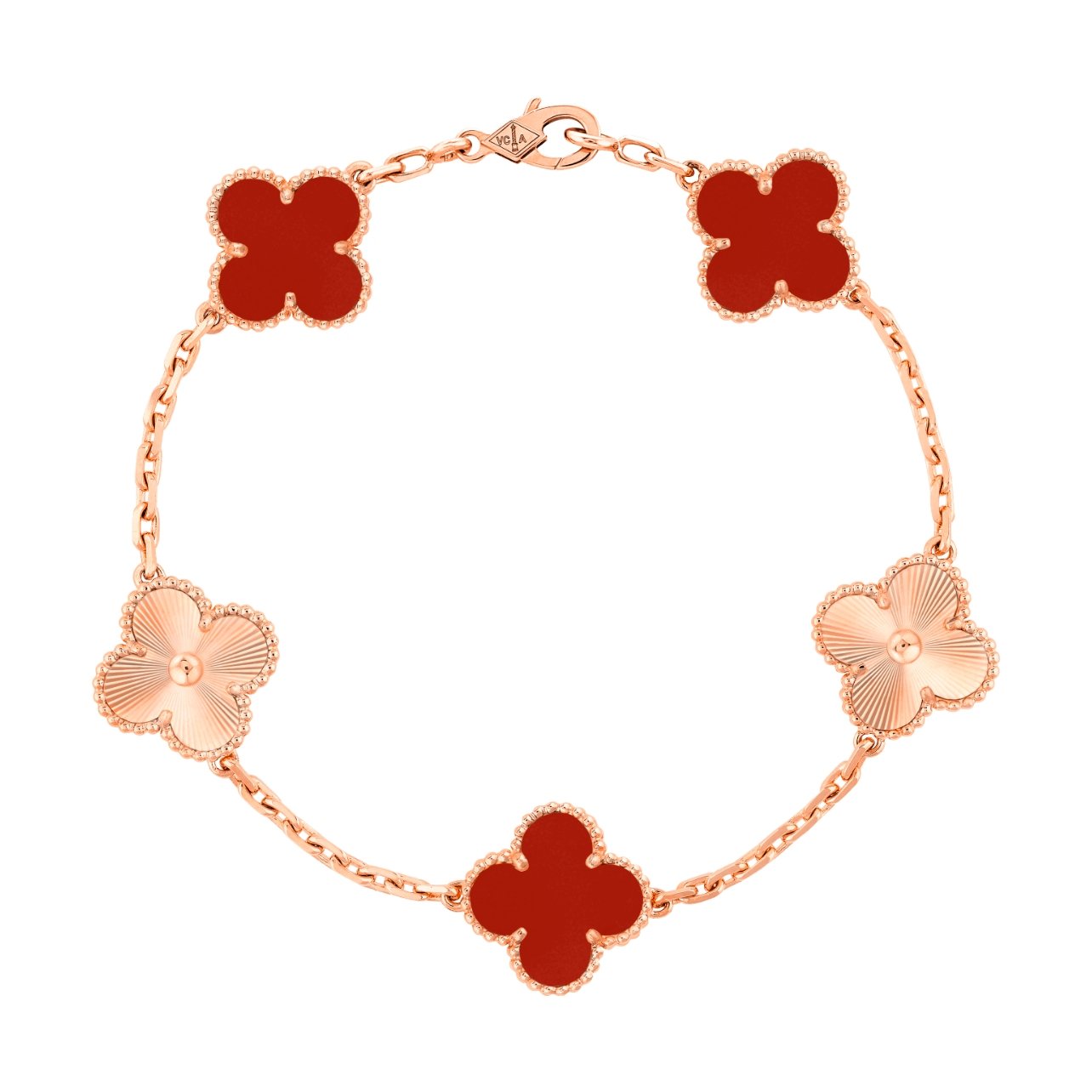 Vintage Alhambra bracelet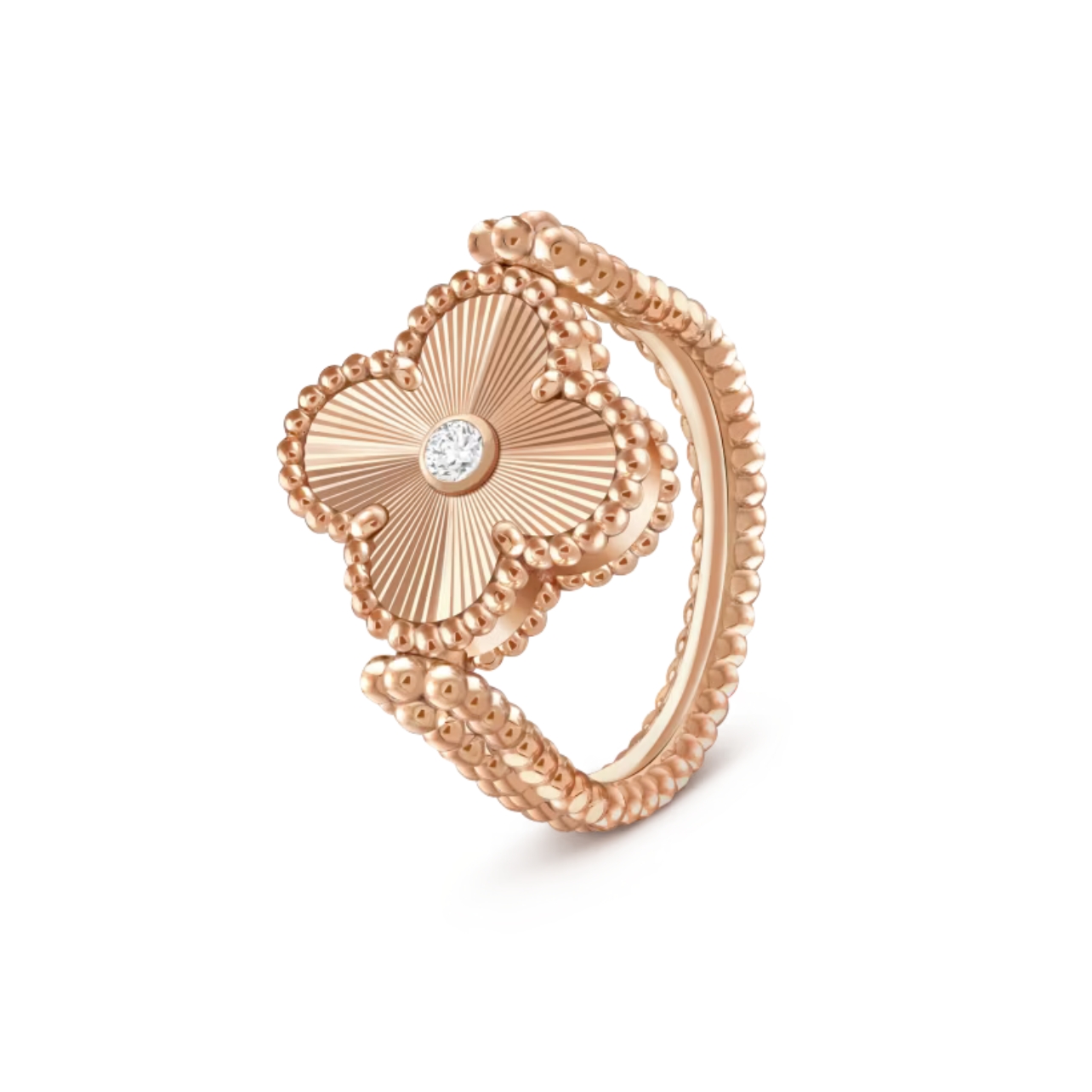 Vintage Alhambra reversible ring
In 2020, to celebrate this unique legacy, Van Cleef & Arpels launched a program called Dance Reflections, a traveling, multi-week summit that supports creative artists and institutions linked to the world of choreography by putting on specialized variations and connecting audiences to the intricacies (and synergies) of dance. Its next edition, running from October 19 to December 14 in New York, will see collaborations with Ballet National de Marseille (in town to perform a piece inspired by voguing, the gestural style of dance that emerged from Harlem's '60s ballroom scene); and performances at venues like the NYU Skirball Center; the Joyce Theater; and more.
Dance Reflections is spearheaded by Serge Laurent, the brand's director of dance and culture and a former curator of living arts at the Centre Pompidou. "Through Dance Reflections, we support choreographic creation on a global scale," says Laurent. "Concretely, we financially assist dance companies with the creation of new works and institutions with the presentation of dance programs." An additional highlight at the upcoming New York activation, he adds, includes a "magnificent" Lucinda Childs piece from the '70s that will be performed at the New York City Center.
"When we started working on this project, we relied not only on the history of Van Cleef & Arpels, but also on its values," says Laurent when asked how Dance Reflections was (and continues to be) formed. "The program is based on three of our values, which we share with the art of choreography— creation, education, and transmission." When asked to expand upon the third value, Laurent offers: "For a work from the past to be presented and preserved, it must be transmitted from one dancer to another. From one generation to the next."
It's an interesting thought to part with: There's obvious permanence in jewelry—the Alhambra being a hallmark, an icon forged in metal—yet Van Cleef & Arpels sees that same durability in the fluidity and form of dance. The crossover adds a kind of symbolically malleable beauty to the former, and a bedrock appreciation for the latter.