By Jay Cheshes
Last September, Maximilian Davis, the 27-year-old British designer recruited to shake up the Ferragamo fashion house, sent shimmery red ensembles down a matching red gravel runway in central Milan. Models in tight bodysuits with fetish-wear detailing gave way to billowy dresses in flowing chiffon. The updated glamour of his debut collection paid tribute to the label's Hollywood heyday, when Marilyn Monroe strode the red carpet in Salvatore Ferragamo's custom-made red crystal pumps, while signaling a bold new direction for a 95-year-old brand best known for its women's shoes and leather accessories.
In the courtyard of the 17th-century seminary building chosen as the backdrop for Davis's first Ferragamo fashion show, Daniella Vitale sat on a stone bench, surrounded by Salvatore's heirs, taking it all in. "It was such a moving moment," she says, "to see the Ferragamo family so excited about this new chapter."
Vitale, appointed North American CEO for the family-run business in late 2021, has been on the front lines of fashion for nearly 30 years—with stints at Armani, Gucci, Barney's, and Tiffany. She's rarely been as energized by the prospect of big change at a brand. "It's such a huge opportunity to really take this company to a completely different level," she says, "not diluting anything that had been done before, of course."
For Vitale, the C-suite appointment was a homecoming of sorts. She began her fashion career at Ferragamo, after responding cold to a job posting fresh out of college. She started in merchandising, originally working under Salvatore's son Massimo in the New York office. His mother Wanda, widowed at 39 in 1960, was still a steady hand behind the scenes, assisting her eldest son Ferruccio, then chairman of the company, at the headquarters in Florence. Ferruccio's son James, now director of the leather goods division, was Vitale's intern back then. "It was very family oriented," she says, of Ferragamo in the early '90s. "It feels very different now—we're over a billion-dollar company, and very global."
Vitale's return to Ferragamo followed executive stints at Gucci and Barney's—she oversaw the shutdown of Barney's, in 2019, as the retailer's first female CEO. After the upheavals of the pandemic, she was looking for a new business challenge when Domenico De Sole, her old boss at Gucci—now chairman of Tom Ford—called in to lobby on Ferragamo's behalf. "He said, 'they're really looking to transform the company, to grow much more exponentially, they're ready to scale,'" she says. "It was a sort of no-brainer. It really made sense to be part of that."
A few months after she started back at the company, Marco Gobbetti joined from Burberry, as Ferragamo's new global CEO. He fast-tracked Davis's hire as new creative director. The designer, born into a Trinidadian-Jamaican family in Manchester, had built a cult following with his own label, Maximilian, launched in 2020—and embraced by Rihanna, Dua Lipa, and Kim Kardashian, among others.
Though Davis arrived at Ferragamo last spring with a strong point of view—and a mandate to reach a much younger audience—he began his new job with humble respect for the brand. "He had done his homework, had done an incredible amount of research on the company and its legacy," says Vitale. "He knew that it was an opportunity to help modernize this, to speak to a new audience, but he also did an incredible job of protecting the codes of the house… most designers want to come in and blow the whole thing up."
Though Florence, where Salvatore launched his label in 1927, is still the spiritual home of the company, Ferragamo's creative center has shifted north to Milan. The corporate offices, and Davis's atelier, are a short stroll from the seminary building where his first collection debuted. Long abandoned by the Catholic church, the building emerged in December—after a four-year renovation—as the Ferragamo family's new 73-room flagship Portrait hotel, with new shops and restaurants around its stone courtyard.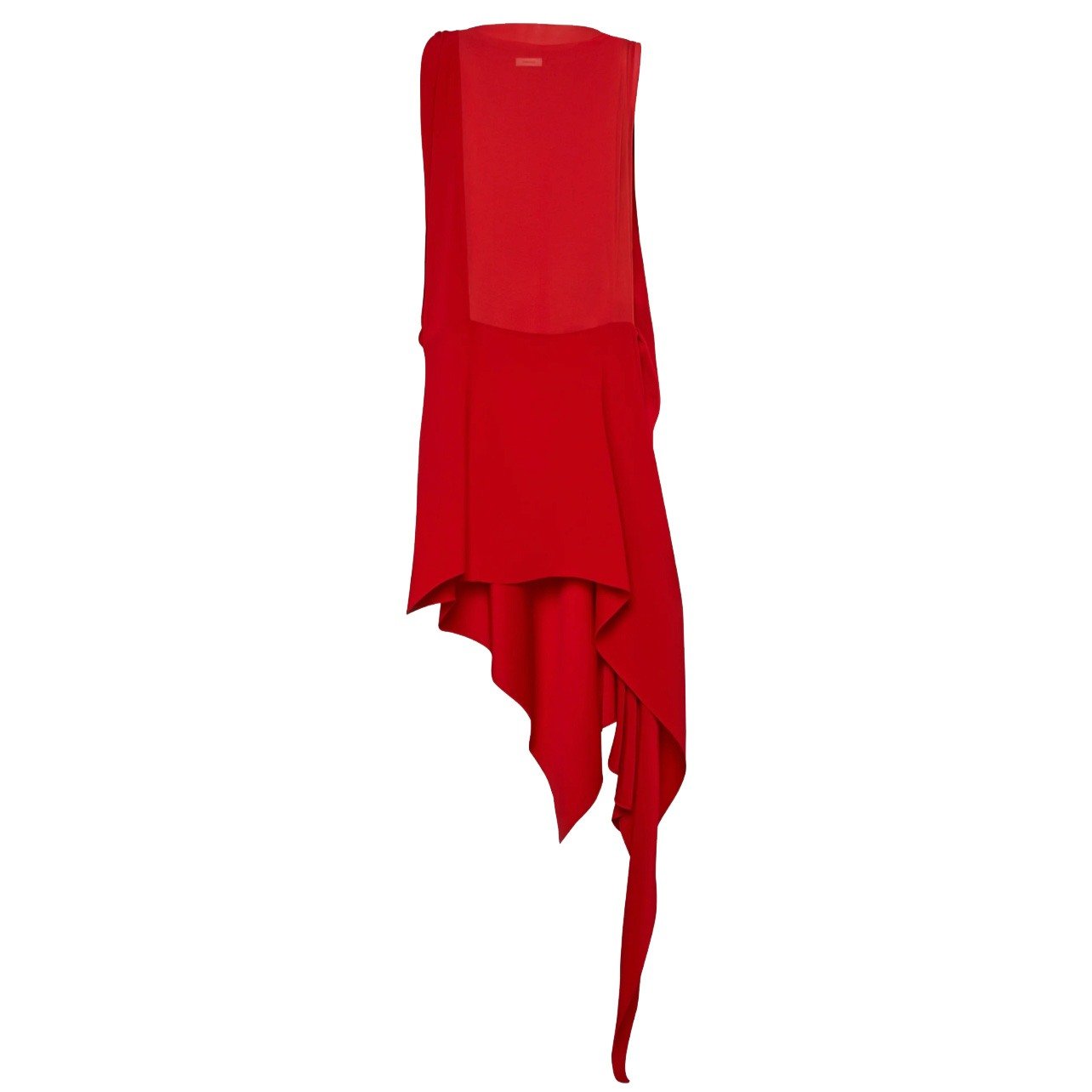 Ferragamo
Asymmetric dress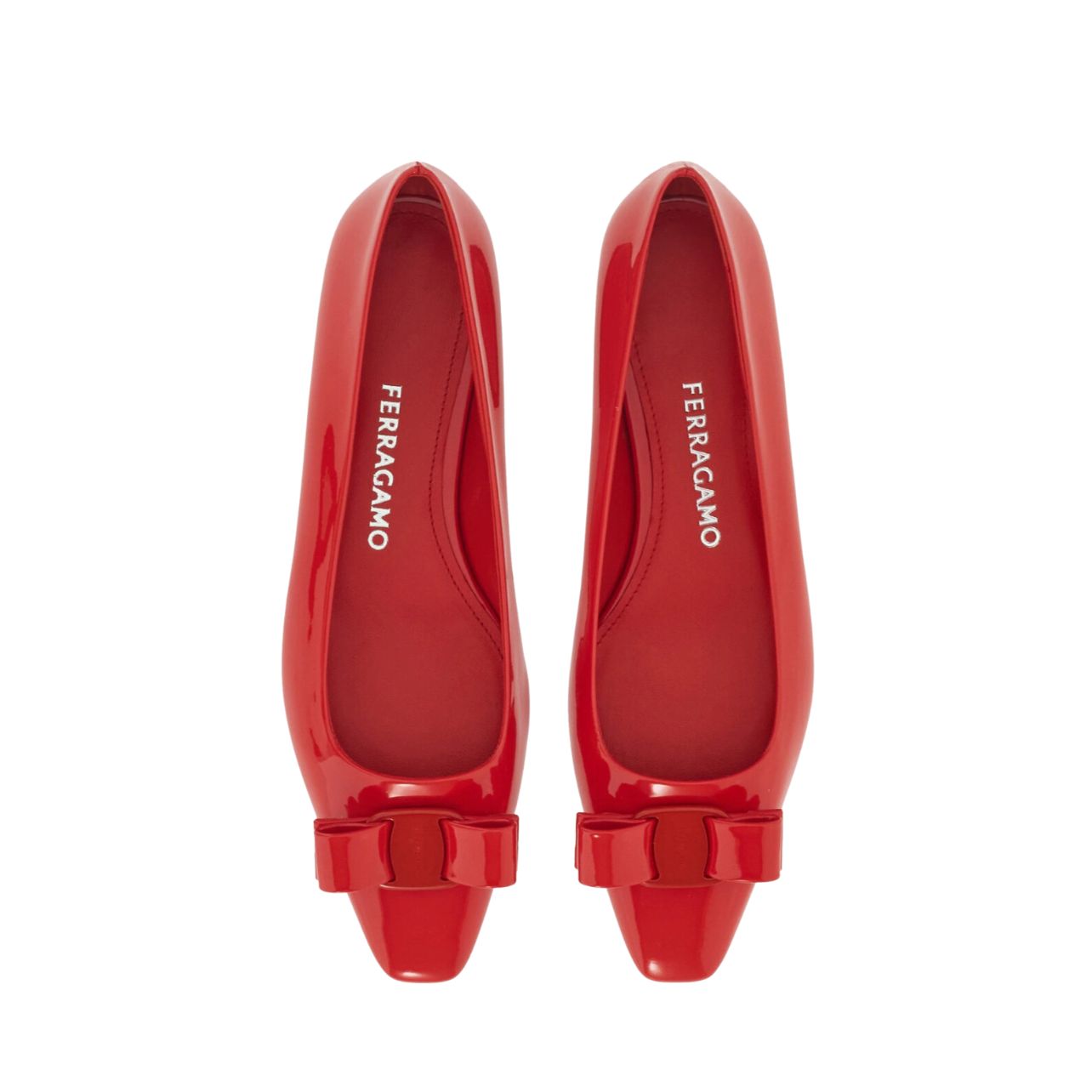 Ferragamo
Vara bow ballet flats
Along with Davis's first collection, a new brand identity debuted there on the runway last fall—with a new name and updated logo (founder Salvatore will no longer be listed on labels), and a new signature shade of Pantone red. "The palette is much more modern," says Vitale. "In terms of packaging, everything is going to change. That's not an easy decision after almost 100 years."
The new Ferragamo that began rolling out last fall will continue its global push into next year, as the entire company undergoes a Davis-led transformation. "He has complete creative control over everything," says Vitale. Updates on some of the most iconic Ferragamo designs, like the Vara shoe, with its signature bow on top—first introduced in 1978—will begin hitting store shelves this year. "It's done in a way that has a really modern sensibility," says Vitale, of Davis's new take on the shoe style, "but it won't take anything away from that classic consumer who is still wearing it today."
Renovated boutiques, reflecting the new era at Ferragamo, will begin opening soon. "We have such a unique opportunity," says Vitale, "to reach a completely new audience. Maybe Ferragamo has never even been on their radar before."