By Nick Remsen
Few working creatives light up a conversation like the British fashion designer Kim Jones. As it happens, today's talk of the town is all about the limited-release Fendi capsule collection he's just dropped, which is available at only nine boutiques worldwide—Bal Harbour Shops included.
Jones is a kaleidoscopic talent, with both a gravitas and an influence that extends far beyond sartorial orbits. His dynamism is what makes him so brilliant: He seamlessly goes from collaborating with Nike on namesake Air Maxes to partnering with contemporary artists such as Hajime Sorayama, KAWS and Kenny Scharf for Dior Men to producing Fendi's haute couture. (Also, don't forget: Jones engineered the internet-breaking collaboration between Louis Vuitton, his former employer, and Supreme in 2017.)
Available now through April 29 is Jones' capsule collection of ready-to-wear directly inspired by his premiere Fendi couture lineup, which was shown earlier this year. In the United States, it's exclusively available at Bal Harbour Shops on the East Coast and Beverly Hills on the West. That's it. (Apologies to New York, Dallas and Atlanta!) The idea is clever: where haute couture is both steeply expensive and hard to procure, a ready-to-wear sister version of it provides a more accessible ingress into fashion's loftiest sanctum.
On Fendi's Instagram account, the first image posted from the capsule—a shot of Bella Hadid in an off-the shoulder, cinched and flare-sleeved wool silk top and roomy trousers—has a captioned quote from Jones. "This first collection feels almost autobiographical," it reads. "What I'm referencing feels really personal."
By that, he means a longstanding fascination with the Bloomsbury Group, the British bohemians of the early 1900's, and, in particular, the pioneering author Virginia Woolf (a member of the set). Woolf's Orlando, a story of androgyny and pointed satire, was an inspiration for Jones's couture platform; all of it was then enmeshed with a Roman poise and polish. The designer told Vogue that the collection was a "journey from Bloomsbury to Borghese."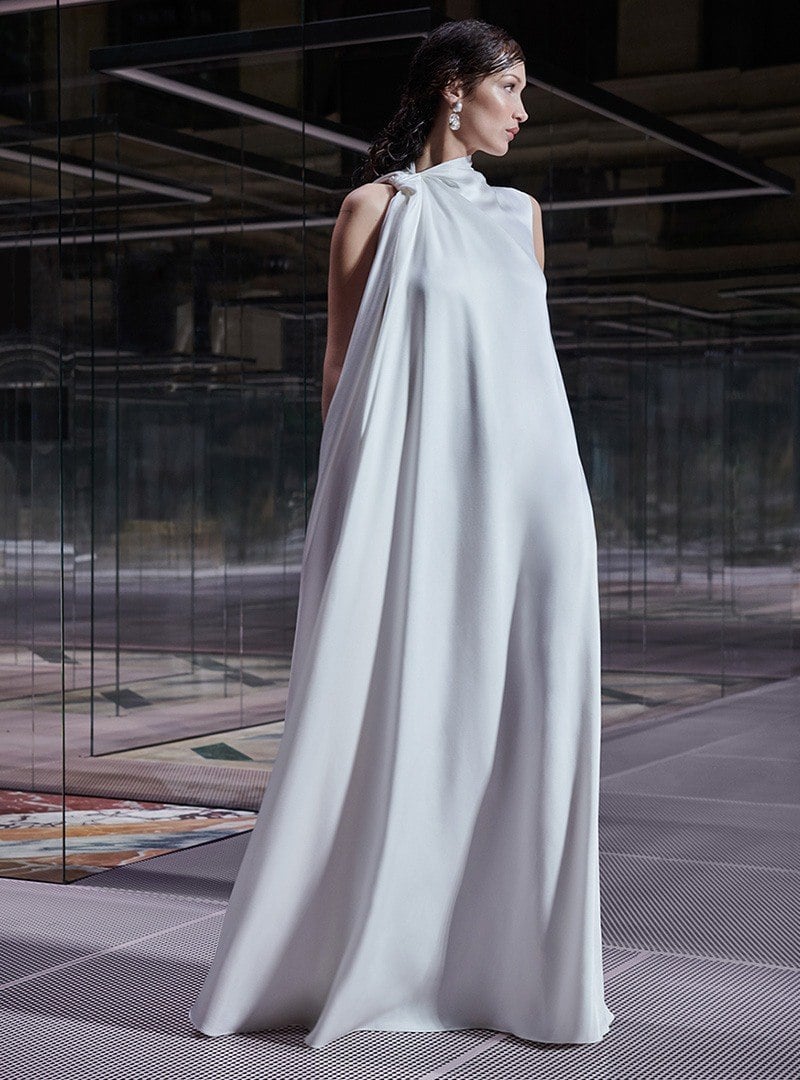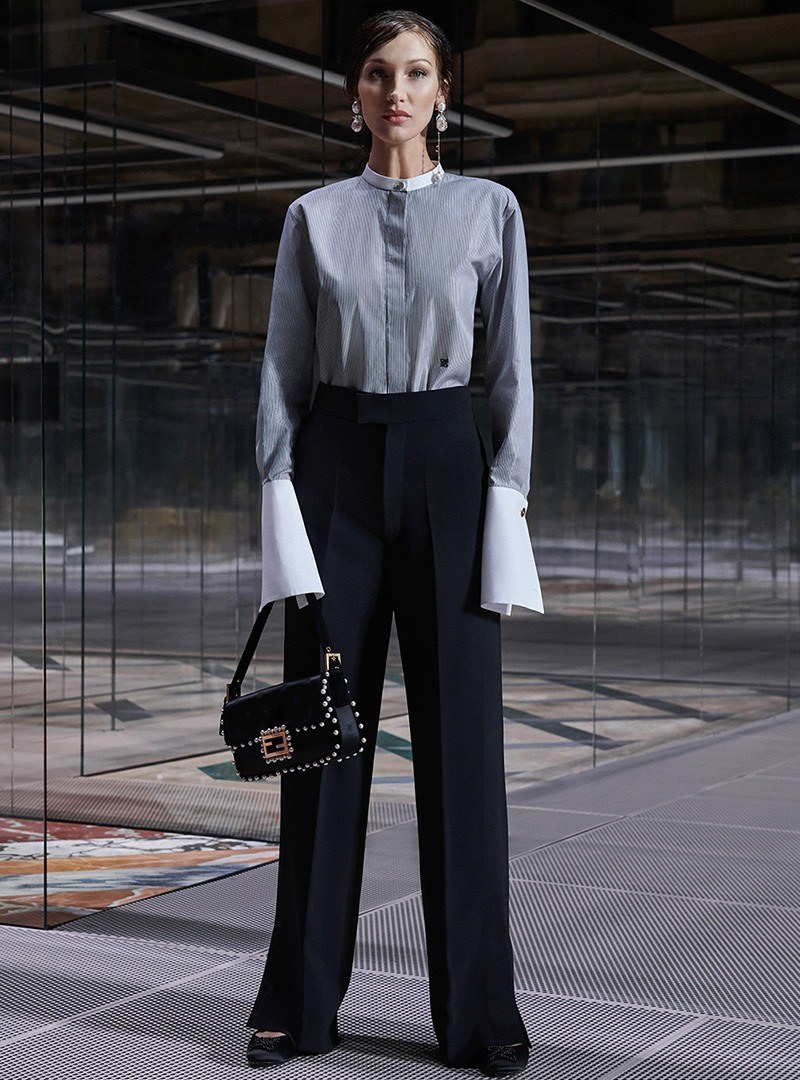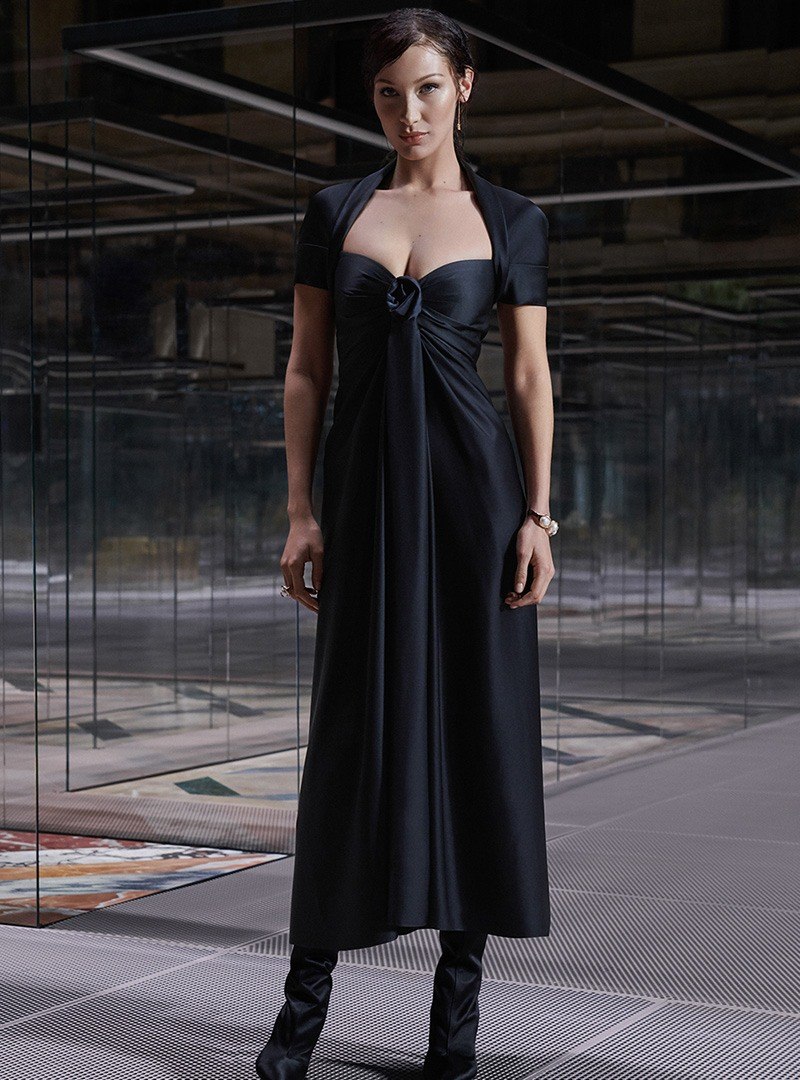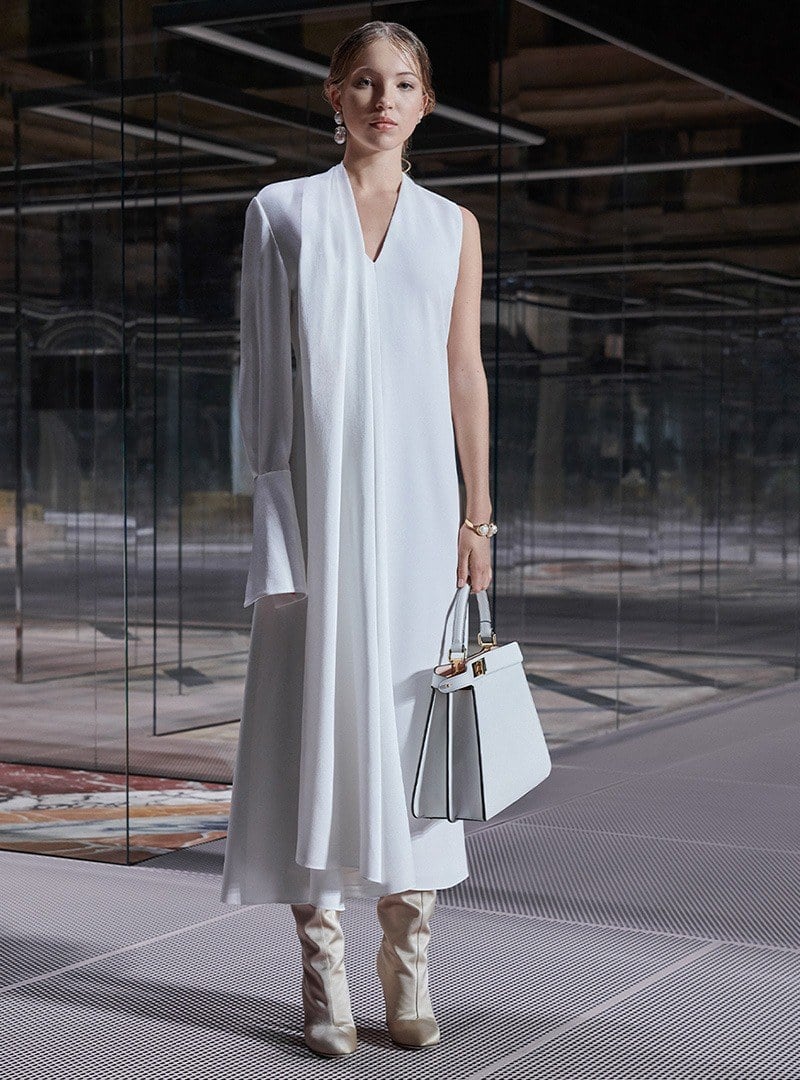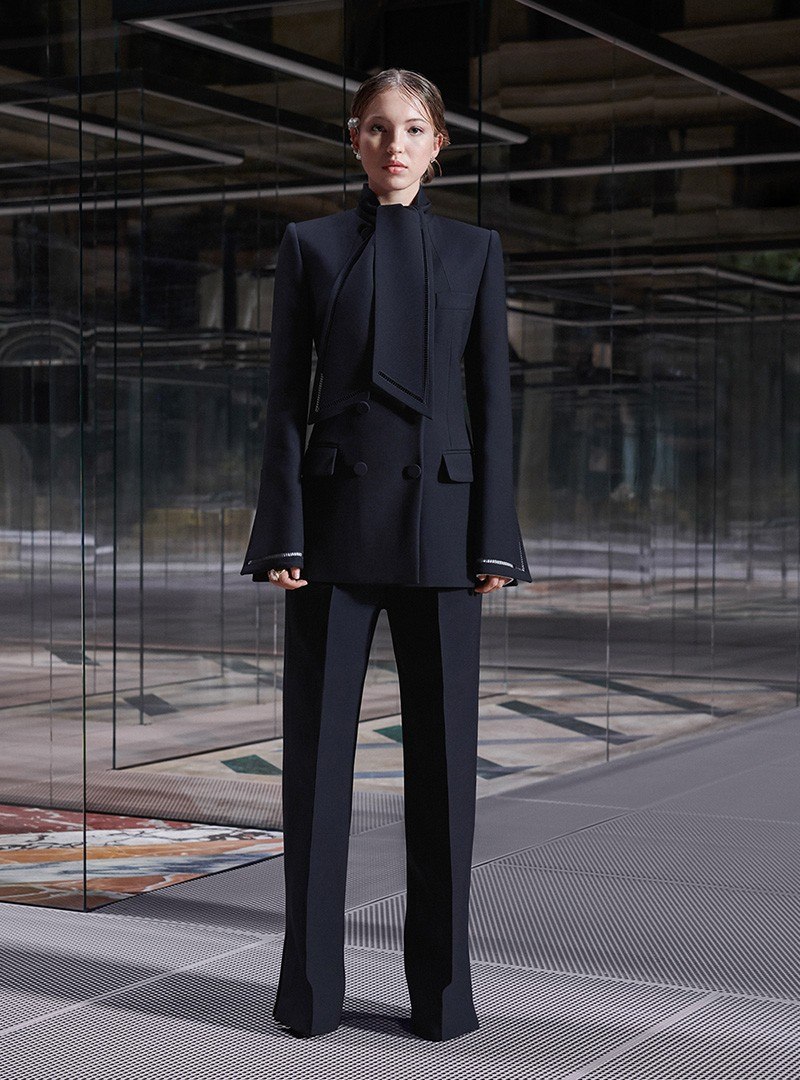 The result, when converted to pret-a-porter? Cady and wool silk tailoring, statuesque satin dresses and gowns, and an intertwining of the feminine and the masculine. A sheath dress in marble white is knotted just to the side of the neck; a crisp, covered-placket shirt has hyper-extended cuffs. Accessories are also in the mix, including Baguette and Peekaboo bags trimmed in pearls or rendered in prints, drawing direct inspiration from the Bloomsbury Group's country retreat, a place called Charleston House. Ballerina slippers are embossed with beaded monograms of "Karligraphy," which is a double-F inverted logo created by Lagerfeld.
Observing Jones's early efforts at Fendi has been invigorating; the man is a tried-and-true, thoroughly trained designer in the traditional sense (he's a graduate of the prestigious Central Saint Martins in London), and one can see his love of the discipline's fundamentals. The tailoring, the draping, the pattern-cutting, the fabric choices; all of it speaks to a rare purity and intelligence. At the same time, though, Jones is a genius merchandiser (again, his number one skill is his versatility). Couture through the prism of ready-to-wear, then, is another one of his master strokes.